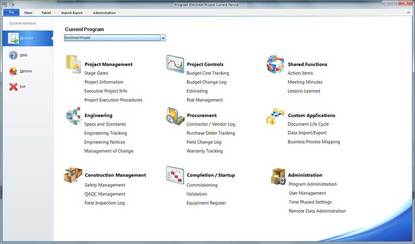 Elegant Project Software

The Project Suite is a multi-user, hosted solution that provides many of the core functions required for large-complex engineering and construction projects.

It includes modules tailored to specific departments (such as safety, project controls, and validation) and allows users to share and control common data (such as equipment lists, areas, and systems) without duplicating lists.

The Project Suite can reduce the multitude of spreadsheets that typically appear on projects, but it also maintains a spreadsheet like interface, ensuring that users can still get their jobs done.
The Suite's modules provide an efficient, intuitive, secure, consistent way to update and share all your project data to help you make better decisions based on timely, accurate, structured information. It can help you and your team to see your project both at a macro level and in a variety of micro levels, depending on what you need to manage and coordinate.

---
The Project Suite is organized into the seven common functional areas found on a project:

• Project Management: The single location for Project Managers and executives to review the high-level status of projects, view dashboard values, and create monthly reports.

• Engineering Tracking: Provides the ability to track and manage activities relating to engineering progress, development and review of drawings, change requests, and management of change requirements.

• Construction Management: The location for tracking all things related to the field construction activities. Includes tracking, communicating, and closing safety issues, as well as QA/QC and field inspections.

• Project Controls: Following best practices of Earned Value Management, this is where cost and progress measurement combine to track all cost elements, review progress, manage change orders, and forecast future cost.

• Procurement Tracking: The place to manage subcontract PO tracking and field change management, as well as integration and review of invoices and warranty related items.

• Completion/Startup: The source for closing out the project that focuses on turnover packages, validation, and managing the links to the equipment list to ensure everything is accounted for and all items are ready for handover.

• Shared Actions: The best place to track, manage, share, and close-out action items on the project. Items are created from various modules and feed the central repository of action items.

Our staff will work with your team to install the software, integrate it with your existing IT systems, and train your staff in using the relevant modules. Of course, the cost and timing depend on the complexity of your project management needs and what existing systems need to be integrated into the new paradigm.